SISE - Società Italiana di Studi Elettorali
News in evidenza
Esito XVII Premio "Celso Ghini"

— 08 Ottobre, 2019




La Commissione giudicatrice del XVII Premio "Celso Ghini" composta, per questa edizione, da Silvia Bolgherini, Antonella Seddone e Fabio Bordignon ha assegnato il premio ai seguenti lavori:

Premio Celso Ghini per la migliore tesi di Dottorato nell'ambito degli studi elettorali: RICCARDO LADINI - Campaign and network effects on electoral participation: The various facets of mobilization and interpersonal influence (Università degli Studi di Trento);
Premio Celso Ghini per la migliore tesi di laurea magistrale nell'ambito degli studi elettorali: ALBERTO STEFANELLI - The Downsian "Irrationality" of Populist Individuals. Testing Spatial Models of Electoral Competition Using Populist Attitudes (Central Univ Budapest).


Elenco dei candidati Comunicazione vincitori
---
12th International Conference - LUISS, Rome, 5-6 December 2019
— 02 Ottobre, 2019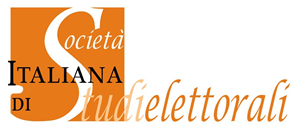 Società Italiana di Studi Elettorali - Italian Electoral Studies Association
12th International Conference
---
CALL FOR PAPERS
---
THE CRISIS OF REPRESENTATION
Parties, voters, rules
Luiss "Guido Carli" University – Department of Political Science
Rome, 5-6 December 2019
---
Contemporary democracies are currently under stress. The legitimacy of political actors and institutions is challenged by growing popular feelings of distrust and dissatisfaction, which are – in the end – questioning the very principle of political representation. Political parties are blamed for their inability to meet citizens' demands, failing to be recognized as legitimate mediators in the relationship between citizens and politics. On the contrary, anti-establishment parties entered the political arena and populist leaders have gained large momentum. In addition, democracies are experiencing frequent institutional crises, whereas uncertain processes of government formation, political instability, and repeated elections have become commonplace in many countries. Indeed, electoral and constitutional rules are increasingly questioned, while attempted reforms end up in ineffective results. Public opinion appears disenchanted and disaffected with politics, blamed for the inability to provide effective responses to a long and dramatic economic crisis.
Against this background, the 12th SISE International Conference aims to address issues related to the challenges to contemporary democracies from different perspectives, such as public opinion and opinion polls, patterns of voting behaviour, electoral rules and their consequences, party organizations and dynamics of renewal, government cohesion and approval against electoral cycle and the economic crisis, the role of supranational government and multilevel governance, social movements and political participation, media and social media in the age of disintermediation.
Comparative as well as single-case studies are welcome, emphasizing that all proposals must be anchored to solid methodological and theoretical perspectives.
Scholars and researchers interested in parties, elections, leadership, political communication and political institutions are invited to submit their proposals. Please note that the suggested topics are indicative. Alternative or original thematic proposals are equally welcome.
HOW TO SUBMIT YOUR PROPOSAL
Abstract proposal should be up to 250 words
Proposals must be sent using the enclosed form to: segreteria@studielettorali.it
Timeline:
October 14, 2019: Call for Papers deadline
October 25, 2019: Proposers will be notified by SISE of the outcome of their abstract submission
November 25, 2019: Papers Due to Chairs and Discussants
Papers can be submitted in English or Italian.
| | |
| --- | --- |
| Conference Scientific Board | Roberto Biorcio / Silvia Bolgherini / Fabio Bordignon / Mario Caciagli / Alessandro Chiaramonte / Nico D'Amelio / Lorenzo De Sio / Vincenzo Emanuele / Paolo Natale / Aldo Paparo / Antonella Seddone / Fulvio Venturino |
PAPER PROPOSAL FORM
CALL FOR PAPERS.pdf
CALL FOR PAPERS.jpg
---
Convegno 4-5 luglio 2019
— 18 Giugno, 2019

EUROPA AL VOTO
Tra sfida nazionalista ed europeista
Tra il 23 e il 26 maggio 2019, nei ventisette paesi membri dell'UE – in uno scenario politico caratterizzato dalla sfida dei partiti populisti e sovranisti alle istituzioni europee e ai partiti tradizionali –, ha avuto luogo l'elezione del Parlamento europeo.
In una fase di profonda crisi del sistema politico europeo, la competizione elettorale bipolare tra le forze politiche euroscettiche e i partiti europeisti ha assunto una rilevanza politica senza precedenti.
Rispetto alle passate consultazioni europee, spesso derubricate a elezioni di secondo ordine, questo voto ha rappresentato un nuovo terremoto elettorale, con conseguenze inedite per il futuro dell'unificazione europea e per le dinamiche politiche interne dei singoli paesi.
Una prima analisi delle elezioni del prossimo maggio sarà condotta dai ricercatori di comportamento elettorale, partiti, leadership e comunicazione politica, che si riuniranno in due giornate di studio (4 e 5 luglio) presso il Dipartimento di Scienze Politiche (DISPO) dell'Università di Genova.
Comitato scientifico:

Mauro Barisione – Università di Milano, Presidente Itanes

Paolo Bellucci – Università di Siena, Coordinatore POPE

Alessandro Chiaramonte – Università di Firenze, Coordinatore POPE

Mara Morini – Università di Genova, Dipartimento di Scienze Politiche Fulvio Venturino – Università di Cagliari, Presidente SISE
Info: mara.morini@unige.it
h. 14.00 – 14.15
Saluti e introduzione
Paolo COMANDUCCI, Rettore dell'Università di Genova
Realino MARRA, Preside della Scuola di Scienze Sociali
Gian Marco UGOLINI, Direttore del Dipartimento di Scienze Politiche (DISPO) dell'Università di Genova
Mara MORINI, Dipartimento di Scienze Politiche (DISPO) dell'Università di Genova
h. 14.15 – 15.45
Panel 1 – PARTITI ED ELETTORI
Chair: Fulvio Venturino
Patrizia Catellani,Mauro Bertolotti,Virginia Pupi(Università Cattolica di Milano), Elezioni europee 2019: previsioni, intenzioni e "senno di poi" degli elettori
Roberto De Luca(Università della Calabria), Domenico Fruncillo(Università di Salerno), Il radicamento elettorale della Lega "nazionale" di Salvini nelle regioni meridionali
Vincenzo Emanuele(Università LUISS "Guido Carli" Roma), Bruno Marino(Unitelma Sapienza), Davide Angelucci(Università LUISS "Guido Carli" Roma), The congealing of a new cleavage? The demarcation bloc between identity and competition in the European Parliament elections
Luca Tentoni(socio SISE-SISP), Il voto europeo nei capoluoghi di regione
h. 15.45 – 16.00 Coffee Break
h. 16.00 – 17.30
Panel 2 – COMUNICAZIONE POLITICA
Chair: Mauro Barisione
Luca Bianco(Università di Bologna) e Marco Improta(Università LUISS "Guido Carli" Roma), Come cambia il Movimento 5 Stelle? Le nuove strategie di comunicazione politica per le Europee 2019
Giuliano Bobba, Cristopher Cepernich, Cristina Cremonesi, Moreno Mancosu(Collegio Carlo Alberto),Franca Roncarolo, Antonella Seddone(Università di Torino), Dinamiche di europeizzazione della sfera pubblica italiana. Il caso delle elezioni europee 2019
Andrea Caretta(Osservatorio di Pavia), Vittorio Cobianchi(Osservatorio di Pavia), Guido Legnante(Università di Pavia), Partiti, temi e leader nella campagna elettorale europea
Giancarlo Gasperoni(Università di Bologna), Sondaggi sulle intenzioni di voto ed elezioni italiane per il Parlamento Europeo: qualità metodologica e capacità predittiva
Frédéric Pascali(Socio SISE), La comunicazione politica dei partiti. La Lega di Salvini, tra sacro e profano, inseguendo la comunicazione di un nuovo protagonismo sociale
h. 17.30 – 19.00
Assemblea SOCI - SISE - POPE - ITANES
5 luglio 2019
h. 9.00 -10.30
Panel 3 – LE MOTIVAZIONI DEL VOTO
Chair: Alessandro Chiaramonte
Lorenzo De Sio, Aldo Paparo,Davide Angelucci(Università LUISS "Guido Carli" Roma),Where is my mind? Domestic and European issue voting in the 2019 Italian EP elections
Nicola Maggini(Università di Firenze), Quali temi dietro alle performance elettorali dei partiti alle elezioni per il Parlamento Europeo del 2019?
Tito Forcellese(Università di Teramo), Misurare il consenso di leader e partiti. Le influenze del sistema politico italiano sul voto per il parlamento europeo nell'era del "maggioritario all'italiana", 1994-2019.
Rinaldo Vignati(Università di Bologna-Istituto Cattaneo), Il voto di preferenza nelle elezioni europee
h. 10.30 – 10.45 Coffee break
h. 10.45 – 12.00
Panel 4 – POLITICA IN EUROPA
Chair: Paolo Bellucci
Malgorzata Lorencka(Università di Slesia), Le elezioni europee 2019 in Polonia. La destra nazionalista può stravincere le elezioni politiche in autunno?
Maurizio Pessato, Rado Fonda, Riccardo Benetti(SWG), Elezioni Europee: il clima socio-politico in Europa
Fabio Serricchio(Università del Molise), Citizens' support for the European Union and electoral turnout: a link that needs to be clarified
Alessandro Testa(Università di Perugia), L'Onda verde e le sue radici. Trent'anni di crescita dei partiti ambientalisti nell'Europa centro-settentrionale
h. 12.00 – 13.00
Tavola rotonda
CHE COSA CI INSEGNANO LE ELEZIONI EUROPEE 2019?
Mauro BARISIONE, Presidente ITANES
Università di Milano
Paolo BELLUCCI, Coordinatore POPE
Università di Siena
Giampiero CAMA,
Università di Genova - DISPO
Alessandro CHIARAMONTE, Coordinatore POPE Università di Firenze
Fulvio VENTURINO, Presidente SISE
Università di Cagliari
Il convegno è organizzato con i contributi dell'Università di Genova, del Dipartimento di Scienze politiche (DISPO) e dello Standing Group "Partiti Opinione Pubblica Elezioni" (POPE) della Società Italiana di Scienza Politica(SISP)
Programma completo 4-5 luglio
---