SISE - Società Italiana di Studi Elettorali
News in evidenza
Conference Program

— 17 Novembre, 2019




Società Italiana di Studi Elettorali

Italian Electoral Studies Association

---

12th International Conference

THE CRISIS OF REPRESENTATION

Parties, voters, rules

---

Luiss Guido Carli University – Department of Political Science

Viale Romania 32

Rome, 5-6 December 2019

---

Thursday 5th December

---

9.30-9.50

---

Plenary session – Room 211

Welcome to participants

Lorenzo De Sio (CISE, LUISS Guido Carli)

Mark Thatcher (LUISS Guido Carli)

Fulvio Venturino (President, SISE)

---

10.00-11.15

---

Panel 1 – Room 203

Methods and approaches

Chair and discussant: Nicola D'Amelio (Ministero dell'Interno)

Daniele BATTISTA (Università di Salerno)

Politica e big data. Un altro modo di vedere i dati

Mirko BEZZI, Gianfranco GAMBARELLI and Giuliana A. ZIBETTI (Università di Bergamo)

How to solve balancing errors in past Italian methods of seat apportionments

Gerasimos ILINOIOU-TSOUROUFLIS (University of the Peloponnese)

Christian Democracy, social market economy and the future of the EU

---

Panel 2 – Room 204

Extreme right parties

Chair and discussant: Silvia Bolgherini (Università di Napoli)

Luca CARRIERI (LUISS Guido Carli)

Throwing darts at the UE. Explaining the voting preferences for the radical right parties

Andrea GRIPPO (Università degli Studi Guglielmo Marconi)

Immigration violence and extreme right. A case study of Alternative fur Deutschland

Michael SHIN (UCLA) and Cristiano VEZZONI (Università di Milano)

The League and the immigrant threat hypothesis. A multi-level analysis

---

11.15-11.45

Coffee break - Room 211

---

11.45-13.00

---

Panel 3 – Room 203

Selection of candidates and party leaders

Chair and discussant: Alessandro Testa (Università di Perugia)

Camille KELBEL (Lille Catholic University)

Women's representation in the European parliament. The role of political parties' candidate selection processes

Bruno MARINO (University of Bologna)

A personalisation effect. Party leaders autonomy in the selection of candidates for general elections

Giulia SANDRI (Université Catholique de Lille), Antonella SEDDONE (Università di Torino) and Fulvio VENTURINO (Università di Cagliari)

New and old. The selection of party leader in Italy. A longitudinal analysis, 1946-2018

---

Panel 4 – Room 204

Personalization of parties

Chair and discussant: Fabio Bordignon (Università di Urbino)

Diego GARZIA, Frederico Ferreira DA SILVA e Andrea DE ANGELIS (University of Lucerne)

The rise of negative personalization

Davide VITTORI (LUISS Guido Carli)

Was it all about personalization. The determinants of the vote in the 2016 Constitutional Referendum in Italy

Alberto STEFANELLI (University of Leuven)

The rise of illiberal populism. Insights from Latin America

---

13.00-14.00

Lunch break

---

14.00-15.15

---

Panel 5 – Room 203

Populist parties

Chair and discussant: Roberto De Luca (Università della Calabria)

Roberto BIORCIO (Università degli Studi Milano-Bicocca)

La crisi dei partiti tradizionali e la diffusione del populismo in Europa

Niccolò INCHES (Università Niccolò Cusano)

Populismo e crisi identitarie in un quadro di ricomposizione territoriale

Davide VITTORI (LUISS Guido Carli)

Restoring the old-fashioned economic voting? Populist parties and the mainstreaming of their voters. The case of Five Star Movement

---

Panel 6 – Room 204

Elections and political participation

Chair and discussant: Vincenzo Emanuele (LUISS Guido Carli)

Davide ANGELUCCI (LUISS Guido Carli)

The reproduction of political inequalities. A comparative assessment of intergenerational reproductive mechanisms of political participation

Giuliano BOBBA, Moreno MANCOSU and Antonella SEDDONE (Università di Torino)

Negativity and political attitudes between first and second order election. The Italian case

Camille KELBEL and Julien NAVARRO (Lille Catholic University)

Time after time. Temporal effects in understanding variations in levels of participation in EP elections

---

15.30-18.00

---

Plenary session – Room 211

---

15.30-16.45

---

Politics in hard times

Keynote speech by Hanspeter KRIESI

---

17.00-18.00

---

Celso Ghini Prize: award ceremony

---

20.00

---

Social dinner – Restaurant TBD

---

Friday 6th December

---

9.30-10.45

---

Panel 7 – Room 203

Elections in comparative perspective

Chair and discussant: Nicola Maggini (European University Institute)

Vincenzo EMANUELE (LUISS Guido Carli)

Bloc without foundations. Class cleavage strength and class bloc support in Western Europe after WWII

Małgorzata LORENCKA (University of Silesia in Katowice)

Nel nome del popolo. L'analisi delle elezioni politiche in Polonia del 13 ottobre 2019

---

Panel 8 – Room 204

The Italian case

Chair and discussant: Fulvio Venturino (Università di Cagliari)

Guglielmo CEVOLIN (Università di Udine)

Crisi della democrazia rappresentativa e verticalizzazione della forma di governo nell'ordinamento italiano

Alessandro CHIARAMONTE (University of Florence) and Vincenzo EMANUELE (LUISS Guido Carli)

Going out of the ordinary. The de-institutionalization of the Italian party system in comparative perspective

Lorenzo DE SIO, Davide ANGELUCCI and Aldo PAPARO (LUISS Guido Carli)

Value predispositions and attitudes towards migration

---

10.45-11.15

Coffee break - Room 211

---

11.15-12.30

---

Panel 9 – Room 211

Electoral campaigns, representation and parties

Chair and discussant: Fabio Serricchio (Università del Molise)

Francesca MONTEMAGNO and Rossana SAMPUGNARO (Università di Catania)

Candidati e partiti tra mediazione e disintermediazione

Julien NAVARRO (Lille Catholic University) and Abel FRANCOIS (Université de Lille-LEM and LIEPP-Sciences Po Paris)

Does it pay to be a "good" parliamentarian? The parties' strategic allocation of financial resources in electoral campaigns in France

Alessandro TESTA (Università di Perugia)

The Green Alternative. The Central and Northern Europe's answer to the right-wing populism

---

12.30-14.00

Lunch break

---

14.00-16.00

---

Plenary session – Room 211

Round table

Voters and Parties in Europe: Challenges of Representation

Chair: Silvia BOLGHERINI (Università di Napoli Federico II)

Lorenzo DE SIO (Luiss Guido Carli)

Sylvia KRITZINGER (University of Vienna)

Julien NAVARRO (Lille Catholic University)

James NEWELL (Università di Urbino)

CONFERENCE SCIENTIFIC BOARD

| | | | |
| --- | --- | --- | --- |
| Lorenzo De Sio | Vincenzo Emanuele | Aldo Paparo | Nicola D'Amelio |
| Fabio Bordignon | Antonella Seddone | Fulvio Venturino | Roberto Biorcio |
| Alessandro Chiaramonte | Mario Caciagli | Silvia Bolgherini | Paolo Natale |


Conference Program.pdf Conference Program_pag1.jpg Conference Program_pag2.jpg
---
Esito XVII Premio "Celso Ghini"
— 08 Ottobre, 2019
La Commissione giudicatrice del XVII Premio "Celso Ghini" composta, per questa edizione, da Silvia Bolgherini, Antonella Seddone e Fabio Bordignon ha assegnato il premio ai seguenti lavori:
Premio Celso Ghini per la migliore tesi di Dottorato nell'ambito degli studi elettorali: RICCARDO LADINI - Campaign and network effects on electoral participation: The various facets of mobilization and interpersonal influence (Università degli Studi di Trento);
Premio Celso Ghini per la migliore tesi di laurea magistrale nell'ambito degli studi elettorali: ALBERTO STEFANELLI - The Downsian "Irrationality" of Populist Individuals. Testing Spatial Models of Electoral Competition Using Populist Attitudes (Central Univ Budapest).
Elenco dei candidati
Comunicazione vincitori
---
12th International Conference - LUISS, Rome, 5-6 December 2019
— 02 Ottobre, 2019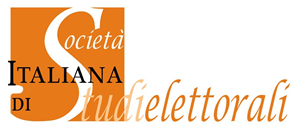 Società Italiana di Studi Elettorali - Italian Electoral Studies Association
12th International Conference
---
CALL FOR PAPERS
---
THE CRISIS OF REPRESENTATION
Parties, voters, rules
Luiss "Guido Carli" University – Department of Political Science
Rome, 5-6 December 2019
---
Contemporary democracies are currently under stress. The legitimacy of political actors and institutions is challenged by growing popular feelings of distrust and dissatisfaction, which are – in the end – questioning the very principle of political representation. Political parties are blamed for their inability to meet citizens' demands, failing to be recognized as legitimate mediators in the relationship between citizens and politics. On the contrary, anti-establishment parties entered the political arena and populist leaders have gained large momentum. In addition, democracies are experiencing frequent institutional crises, whereas uncertain processes of government formation, political instability, and repeated elections have become commonplace in many countries. Indeed, electoral and constitutional rules are increasingly questioned, while attempted reforms end up in ineffective results. Public opinion appears disenchanted and disaffected with politics, blamed for the inability to provide effective responses to a long and dramatic economic crisis.
Against this background, the 12th SISE International Conference aims to address issues related to the challenges to contemporary democracies from different perspectives, such as public opinion and opinion polls, patterns of voting behaviour, electoral rules and their consequences, party organizations and dynamics of renewal, government cohesion and approval against electoral cycle and the economic crisis, the role of supranational government and multilevel governance, social movements and political participation, media and social media in the age of disintermediation.
Comparative as well as single-case studies are welcome, emphasizing that all proposals must be anchored to solid methodological and theoretical perspectives.
Scholars and researchers interested in parties, elections, leadership, political communication and political institutions are invited to submit their proposals. Please note that the suggested topics are indicative. Alternative or original thematic proposals are equally welcome.
HOW TO SUBMIT YOUR PROPOSAL
Abstract proposal should be up to 250 words
Proposals must be sent using the enclosed form to: segreteria@studielettorali.it
Timeline:
October 14, 2019: Call for Papers deadline
October 25, 2019: Proposers will be notified by SISE of the outcome of their abstract submission
November 25, 2019: Papers Due to Chairs and Discussants
Papers can be submitted in English or Italian.
**** Hotel suggestions for the 12th International Conference ****
| | |
| --- | --- |
| Conference Scientific Board | Roberto Biorcio / Silvia Bolgherini / Fabio Bordignon / Mario Caciagli / Alessandro Chiaramonte / Nico D'Amelio / Lorenzo De Sio / Vincenzo Emanuele / Paolo Natale / Aldo Paparo / Antonella Seddone / Fulvio Venturino |
PAPER PROPOSAL FORM
CALL FOR PAPERS.pdf
CALL FOR PAPERS.jpg
---