News
CALL FOR PAPER
— 16 Ottobre, 2018
PSA 69th Annual International Conference
15-17 April 2019
Nottingham Trent University
#PSA19
(UN)SUSTAINABLE POLITICS IN A CHANGING WORLD
Panel Proposal
Italian Politics Specialists Group
Media and Politics Specialists Group
Media and Politics in the post-representative democracy: the European scene
Chairpersons:
Luigi Ceccarini, University of Urbino Carlo Bo, Italy | Italian Politics Specialists Group
Michele Sorice, LUISS University, Rome, Italy | Media and Politics Specialists Group
Discussants:
Giovanni Boccia Artieri, University of Urbino Carlo Bo, Italy | Italian Politics Specialists Group
Emiliana De Blasio, LUISS University, Rome | Media and Politics Specialists Group
Keywords: Political Communication, Participation; Civic engagement; Populisms; Post-representative politics
In the last two decades, not surprisingly, many scholars have talked about the emergence of the post-representative politics (Keane 2013, De Blasio and Sorice 2018, Ceccarini and Diamanti 2018). The crisis of representation, in fact, can easily be interpreted as a deficit of trust on the part of citizens towards political institutions. In this climate of mistrust, the demands for more participatory forms of democracy and a citizens' critical (Norris 1999) and monitorial approach to politics (Rosanvallon 2006) are growing, as well as reactions that push towards the request for new forms of representation, such as those that we can define as "hyper-representation" and which constitute the background of many contemporary populisms. The lack of trust in political institutions generates three areas of response from citizens: a) social apathy; b) the request for a more accurate control over representative institutions (the sanctioning democracy); c) the request for new forms of participation (from active citizenship to different forms of democratic innovations to the emergence of new "challenger parties").
After 2018 general elections, Italy constitutes an interesting example of the consolidation of a post-representative democracy; this is provoking a radical change in the political scenario, a deep transformation in the logic of political communication (Berlusconi's era seems paradoxically really far away) and a diffusive development of new and individualized (Micheletti 2003) forms of political participation.
The panel aims at highlighting the radical transformation of Italian and European political scenario following the insurgence of the post-representative politics and some instances of depoliticisation and its controversial relationship with the media, both "traditional" and "digital.
In order to discuss these topics, papers that focus on the linkages between media use, political participation and citizens' involvement, as well as on a multidisciplinary and comparative approaches are very welcome.
If you are interested in contributing to the panel, please send an abstract (max 300 words) by 19th October 2018 to luigi.ceccarini@uniurb.it and michele.sorice@ccps.it
---
XVII Premio "Celso Ghini"
— 26 Luglio, 2018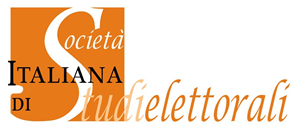 XVII Premio "Celso Ghini"
La Società Italiana di Studi Elettorali (S.I.S.E) bandisce fra giovani studiosi italiani e stranieri DUE PREMI per tesi su temi elettorali, discusse negli anni 2017 e 2018.
I premi saranno così assegnati:
€ 1.500 per una tesi di laurea quadriennale o specialistica,
€ 2.000 per una tesi di dottorato.
I premi saranno assegnati da una Commissione nominata dal Comitato Scientifico della S.I.S.E., il cui giudizio sarà comunque insindacabile.
Una copia della tesi dovrà pervenire - entro e non oltre il 31 gennaio 2019, in plico raccomandato, con allegati i contatti personali e la copia del documento di riconoscimento - a:
Prof. Mario Caciagli
Dipartimento di Scienze Politiche e Sociali
Via delle Pandette 21
50127 Firenze
Info: segreteria@studielettorali.it
Bando XVII Premio "Celso Ghini"
---
CALL FOR ABSTRACTS - Temi e leader oltre le ideologie
— 01 Luglio, 2018

Temi e leader oltre le ideologie
Convegno dell'Associazione Italiana di Comunicazione Politica (AssoComPol)
Perugia | Università di Perugia | 13-15 Dicembre 2018
I risultati delle elezioni del 4 marzo 2018 hanno confermato quello che ormai da anni molte ricerche avevano già anticipato: la preminenza delle singole figure di leader e di alcuni principali temi divisivi (si veda quello dell'immigrazione) sulle scelte elettorali dei cittadini e più in generale sul dibattito pubblico. Si crea un connubio tra leader e temi, con i primi che si identificano, a volte si appropriano, dei secondi facendone un loro essenziale cavallo di battaglia. Ciò va a discapito delle tradizionali appartenenze politiche con un'accentuata volatilità delle decisioni di voto come appunto dimostrato nella tornata elettorale di quest'anno.
Questa tendenza non appare limitata all'Italia, bensì accomuna molte democrazie liberali come confermato da molti recenti eventi e dalla sempre maggiore centralità nel dibattito pubblico di temi come immigrazione ed Europa che provocano laceranti divisioni nel paese.
Il convegno ComPol di Perugia intende discutere, anche in una prospettiva diacronica e comparativa, presentazioni che affrontino i problemi sopra delineati assieme anche ad altri approcci che illustrino le modifiche intervenute nella comunicazione politica e nella sfera pubblica degli ultimi anni. Particolare attenzione verrà dedicata all'interazione tra mainstream media e new media che è, in larga parte alla base delle modificazioni accennate.
Si sollecitano di conseguenza paper che affrontino i seguenti argomenti:
il ruolo dei leader nella determinazione delle scelte elettorale;

i leader nel momento elettorale e non;

temi divisivi e temi unificanti nel dibattito pubblico;

tendenze e rilevazioni comparative nelle democrazie liberali;

il dibattito sul populismo e le scelte tematiche;

il sistema mediale ibrido e il suo ruolo nella determinazione di nuove tendenze della comunicazione (echo chamber, etc.)
Le proposte di paper devono includere: nome, affiliazione con indirizzo, e indirizzo email del/dei proponente/i, un titolo, tre parole-chiave e un abstract di non più di 400 parole (senza riferimenti bibliografici). Gli abstract che non seguono tali indicazioni non verranno presi in considerazione. Si vedano con attenzione le "Abstract Instructions".
Termine per l'invio degli abstract: 31 Agosto 2018 a convegno@compol.it.
Notificazione di accettazione: 15 Ottobre 2018
I paper completi dovranno essere inviati entro il 30 Novembre 2018.
---
Comitato scientifico: Giuseppina Bonerba, Paolo Mancini, Rita Marchetti, Marco Mazzoni, Gianpietro Mazzoleni, Roberto Mincigrucci, Anna Stanziano, Sofia Verza
Call for Abstracts (ENG)
Call for Abstracts (ITA)
---
Programma - Incontro di studio su: Elezioni politiche e regionali 2017/2018 (Università degli Studi di Salerno)
— 24 Aprile, 2018